Inspo Series: Courtney's trip to Tokyo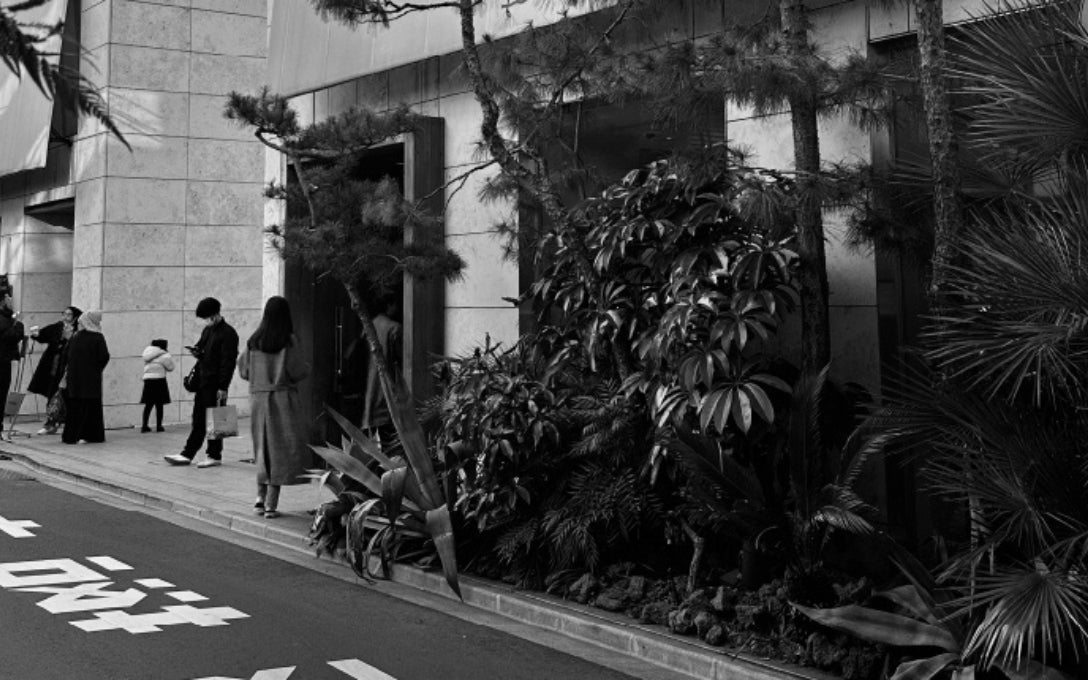 Founder and lead designer, Courtney Price tells us about her trip to Tokyo
Tailored, contemporary, and uncomplicated – three pillars of design that we at Elka Collective aim to embody through our clothing every season. With each collection, Elka Collective empowers modern women to adopt a casually luxurious approach to how they dress, with timeless, elegant, and unmistakably feminine styles.
With this concept at the forefront of our brand, our Founder and Creative Director Courtney Price has gone to the heart of minimalism and organic form, Tokyo, Japan, to source inspiration for the future of our garment design as well as architecture and interior design for our Boutiques.
Continue reading for a brief discussion with Courtney about where she went, what she ate, and her favourite places to visit in Japan's bustling capital.
WHY WERE YOU IN TOKYO?
I was visiting Tokyo to explore garment design and inspiration for retail interiors and architecture for our new Australian stores.

I'm particularly drawn to the Japanese design approach, which prioritises form and function across a multitude of design disciplines.
WHERE DID YOU STAY? DO YOU HAVE A FAVOURITE HOTEL OR CITY TO STAY IN?
I was lucky enough to mix business and pleasure on this trip, so to start I stayed at the Shibuya Stream Excel Hotel, which is great for business travel as it's located in the centre of Shibuya.

I then had a few nights at Trunk Hotel, a gorgeous boutique hotel wedged between Shibuya and Harajuku with a focus on shared creative communal spaces. Other places to stay for future trips would be the luxe Aman Hotel and The Tokyo Edition.
WHERE DID YOU EAT/DRINK WHILE YOU WERE THERE?
There are so many amazing places to eat if you're wandering through Shibuya and Harajuku. Harajuku Gyozaro is a must for a quick and authentic Japanese lunch – be prepared to line up though!

Margaret Howell also has a great café inside their Shibuya store. If you want a slice of home, visit Bills on the 7th floor of Tokyu Plaza Omotesando.

Another great place to grab a quick bite is in Daikanayama, at Isshin, and Izakaya in Minato City if you're looking or a great, authentic Japanese lunch.
WHERE ARE YOU FAVOURITE PLACES TO SHOP?
There are amazing shopping spots in Shinjuku, Omotesando Hills, and Minato City in Aoyama. I adore spending the afternoon in Minato City, stores like Lemaire (with the amazing bookstore above it) and Prada. H Beauty and Youth have a great mix of luxury and ready-to-wear pieces, street style and beauty products. Loveless also has a great collection of international and local brands.

My top stores to visit when I'm in Tokyo are the Isetan Shinjuku Women's Department Store – they have a mix of amazing local and international designers – and Omotesando Hills for your luxury brands like Loewe, Bottega, Jil Sander, LV, and Acne.

There's a bookstore in Daikanayama called The Tsutaya that has the most expansive collection of design, fashion, interior, and music books and magazines. You can even sit upstairs in the lounge and have a drink while you read through your purchases.

Mini department stores like Beams and Tomorrowland, Dover St Market, The Tokyo & L'Appartment stores are also amazing, and drop into the basement level of Cibone after you're finished at Omotesando Hills, they sell gorgeous eclectic homewares and ceramics.
FAVOURITE THINGS TO DO IN TOKYO?
One of the highlights of my trip was the visit to the Team Lab Planets Gallery in Koto City. There are 4 large-scale artwork spaces and 2 gardens; it's an immersive experience designed to blur the boundaries of art and perception.

Other great galleries to visit are the Mori Art Museum, which showcases the most incredible views of Tokyo, The National Art Centre, and the Curators Cube, a great boutique gallery.

I also love visiting the Oedo Antique Market, which is only open on the 1st and 3rd Sunday of the month – it's an amazing spot for local vintage homeware finds.